Differ from new jewellery, antique items have not only the gem value but also historical significance which is relevant to its market price. Understand the cultural and historical influences for different periods of jewellery could help us easily define the value of antique jewellery. Galerie Montaigne, the expertise of antique jewellery from Monaco is here to guide you to identify the different periods of jewellery and unrevealed more amazing antique jewellery by storytelling.  If you have any questions or request help with jewellery projects, please contact us here.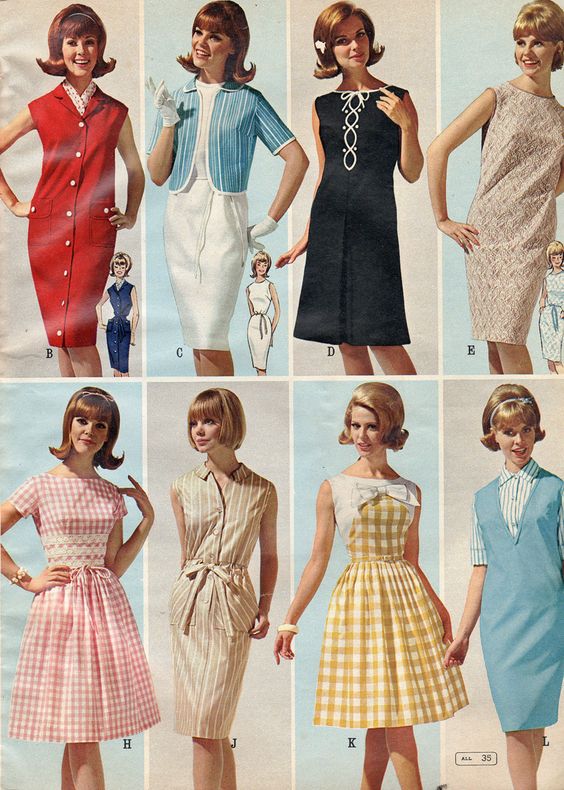 Women Fashion trend between the '60s – '70s
Between the '60s and '70s, what changed the jewellery world?
The counterculture. People, especially young people were enjoying great benefit from the growing economic and luxe environment. As the influence of fashion icon, David Bowie, the young generation led many counterculture events, like against racism, pursuing women's rights, and freedom of custom design on fashion and jewellery. 
Change of fashion clothing sectors. Jewellery as the important accessories, a part of the fashion look, also adapted the new trend in the '60s – '70s. Like Mary Quant and Brigitte Bardot, they were the fashion influencers and encouraged women to wear what they want without putting too much effort into the outfit. The design of clothes was more simple, slim but comfortable, which the presence of modernism.  Another significant move of the fashion industry was the use of colour and pattern, as known as Pop Art. Designers were inspired by the music and culture which sought freedom, they used tropical beach colours, different printing patterns of flowers or shapes. The dynamic use of print and colour was pushing the independent designers to bring jewellery from high-end to custom, from Couture to High Street boutiques. Jewellery designers created a new design trend called Op Art: it allowed designers to extract the white and black colours and display them as an optical illusion into the jewellery pieces.
On the other hand, the wealth and luxury lifestyle occurred more cocktail events and proms. Women started wearing one-piece simpler dresses or were even allowed to wear two pieces of cocktail outfits, which brought more attention to the jewellery they have worn on their skin.
Growth innovation design on jewellery. Young independent jewellery designers have challenged traditional manufacturing brands. From the selection of materials to the design of jewellery, independent designers stood out as a big differentiator advantage in the market. The significant value of custom jewellery even influenced several traditional jewels manufacture, like Van Cleef & Arpels, Bvlgari (click here to discover more about the brand).  
What are the significances of art jewellery from the '60s and '70s?


Due to the evolution of culture and art in the U.S. and Europe, jewellery from the '60s  and '70s revealed the initial innovation than those from before.
The trend of jewellery in boutiques. Differ from traditional jewellery, designers aimed to establish a one-off creation, strong art style but with less expensive materials. The buyer persona was for women who went out often for cocktail parties and nightwear accessories. So the general trend of jewellery presented a high level of individual stylish, chic and easy to wear on with casual clothes.
The interplay of different materials. Gold is still the main choice of designers. The warm tone of gold was given a perfect colour tone for the base of the jewellery with other colourful gemstones. During the '70s, yellow gold took platinum and white gold on gemstone settings due to the innovative design and affordable pricing. Turquoise became the most popular bold gemstones, and then there were also malachite and Lapis Lazuli. By combining gemstones, many uncut and faceted stones were well displayed at the same piece in brooches and rings due to the presentation of the original effect. 
Since 1970, even big jewellery 'Maisons' like Van Cleef & Arpels re-introduced unconventional materials on manufacturing: such as rock crystal, coral and exotic woods.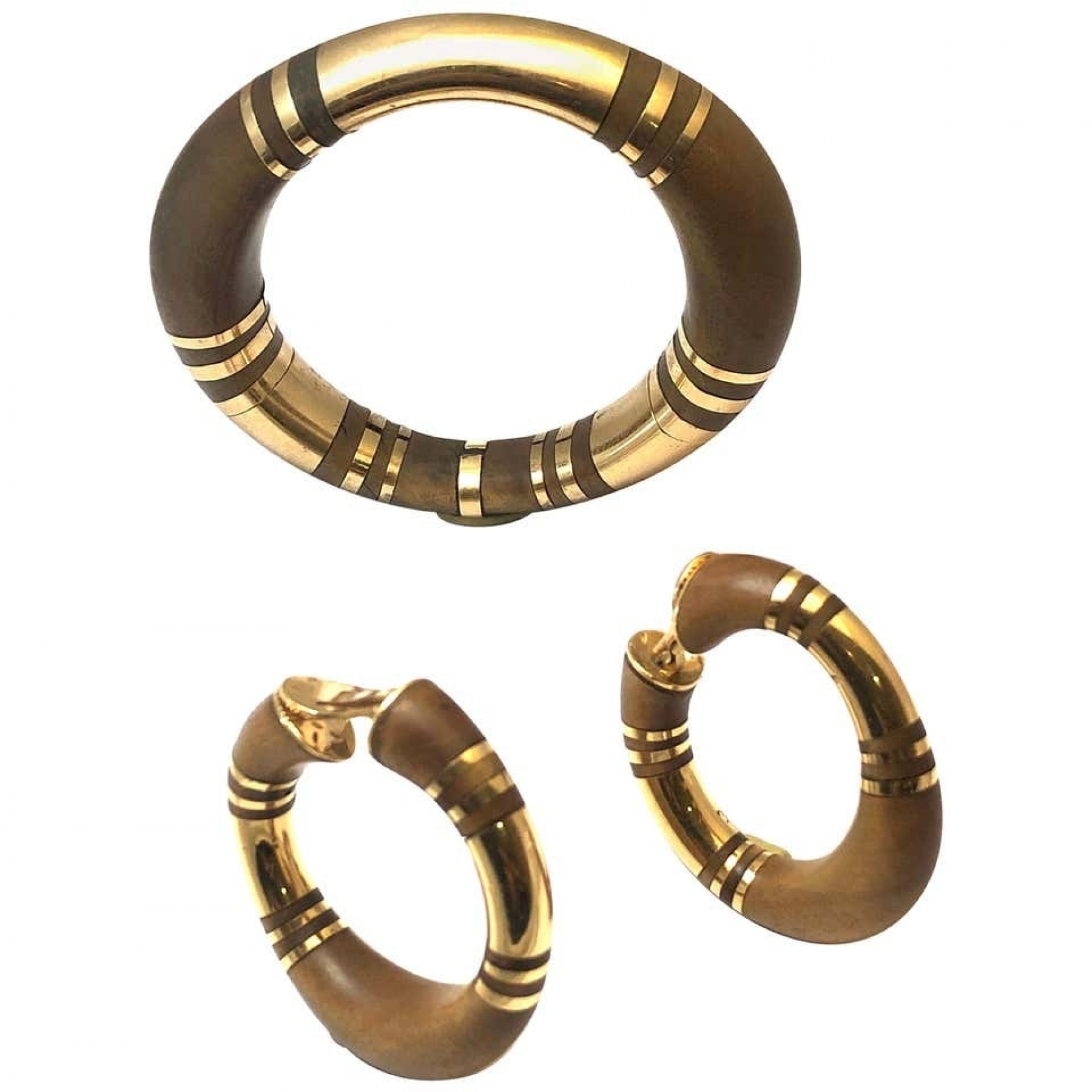 René Boivin set (openable bracelet and a pair of ear clips) in wood with rings in yellow gold. Signed René Boivin. Circa 1970
Avaliable only in Galerie Montaigne.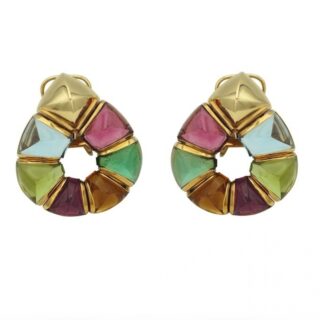 Ring in yellow gold set with a big lapis-Lazuli and diamonds on the top. Ring size: 51 French sizes. US size : 5,75.
Inspiration of art jewellery design. Before the '60s, many jewels creations were inspired by nature like animals or insects, planets. David Webb, one of the more representative jewellery designers from the '60s, applied a light touch feeling, the emotional and lively look of animals on his Duchess of Windsor collection. Another example from the artwork of Chaumet: jewellers attempted to differentiate their designs and create their jewellery version of natural forms. Arriving in the mid of the '70s, many necklaces and earrings were inspired by the colour scheme with rubies, emeralds and diamonds with the stylish of Indian traditional jewels. It wasn't a surprise to re-introduce the Middle East and Indian jewels' influence due to global cultural activities. It's still interesting to note that traditional jewels houses recognized more competition on jewellery design and manufacturing, which forced them to break through the restriction on material use and inspired by new dimensions of jewellery design. 
Design: Shapes, colour and type of jewellery. In general, jewellers were looking for the original look for women who could present their fashion taste in both day and night time. The significant trademark of jewellery in the '60s is the transformation of natural form into the design by abstraction and stylisation. New techniques were developed on gold melting to create different textures and effects, like chiselled, reeded, hammered, corded, plaited and twisted. Another signature of jewellery design is the growing interest in balanced asymmetry and movement. 
Earrings: In the 1970s, the shape of jewellery was no longer following the restrain path, large and bold shapes became the main trend of earrings. The popular type of earrings was likely to be large circular or hoops with rock crystal, onyx, coral and other exotic stylish materials. Discover the signature art earrings from the '70s above, Signed Bvlgari multicoloured stones earrings with a yellow gold setting.
Necklaces: In the 1970s, there was high demand for the long-chain necklaces that could swing while women wearing long skirts, frilled blouses, boleros and other fussy dressing fashion styles. As we discussed before, yellow gold was a very popular element to match with colourful gemstones. 
For example, this Bulgari Sautoir 'Monete' Or Et Argent necklace. It was sold at 75,000 EUR from Christie's Juaillerie online auction in July 2021. Mr Guilhon as the founder of Galerie Montaigne, the antique jewellery expertise, discovered this excellent art piece and shared it with worldwide audiences.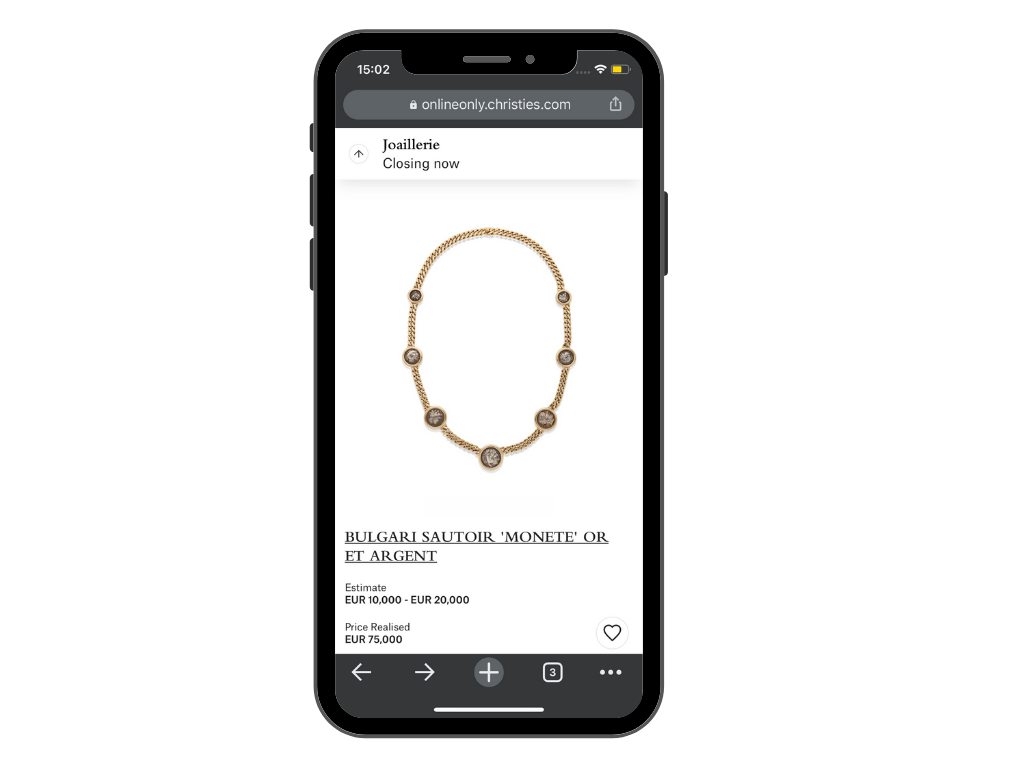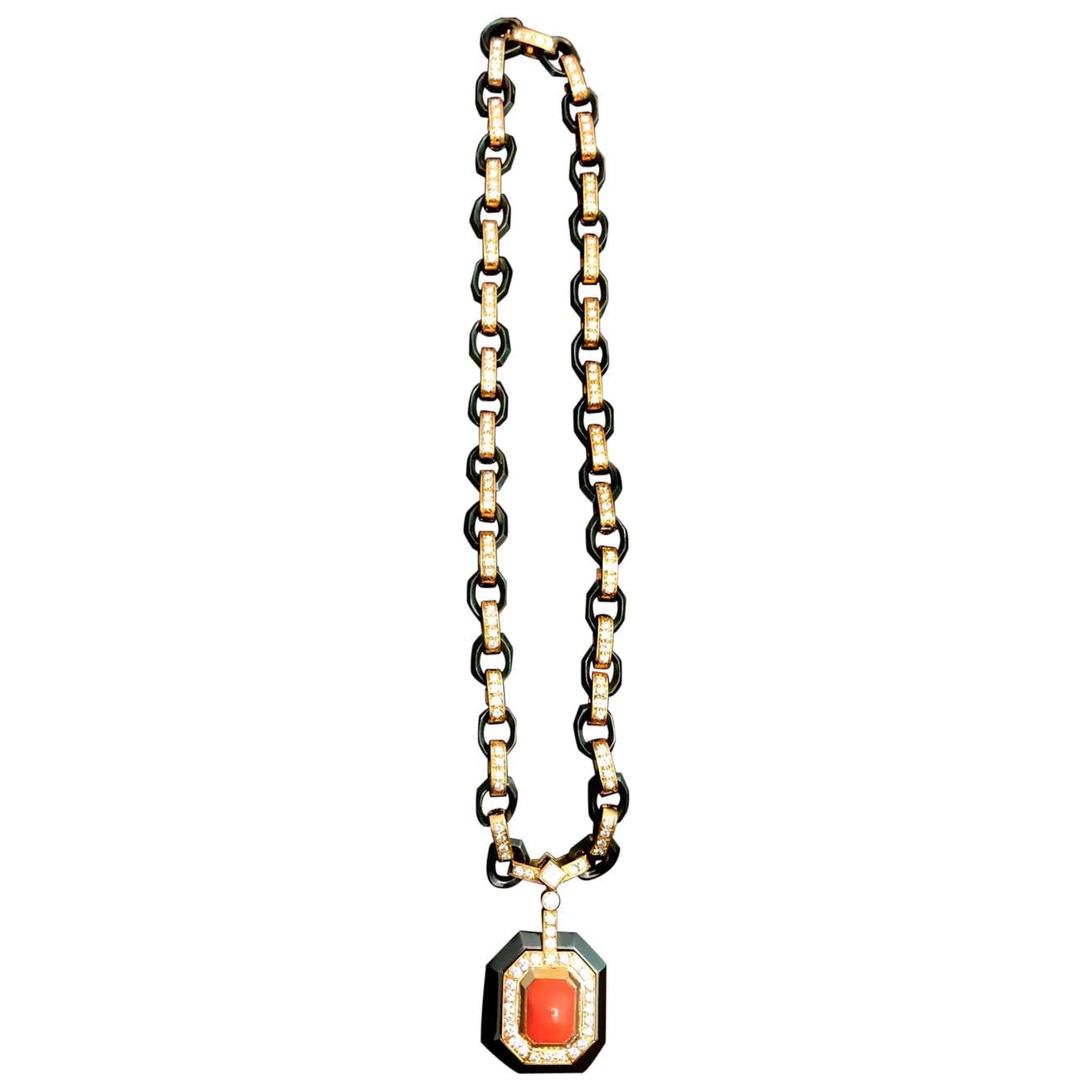 Poiray Necklace 70′ in yellow and black gold set with diamonds and a cabochon cut diamonds. 
Only available in Galerie Montaigne.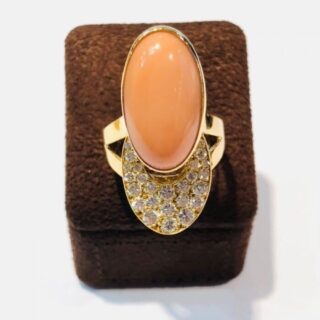 This singed Cartier ring from the '70s used coral as the main stone with cabochon cut, elaborate yellow gold and small diamonds underneath.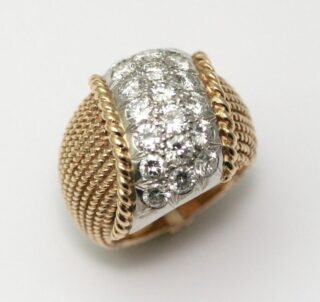 This singed Cartier ring from the '70s used coral as the main stone with cabochon cut, elaborate yellow gold and small diamonds underneath.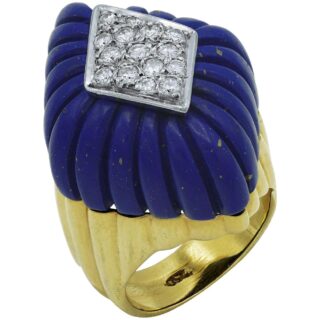 Ring in yellow gold set with a big lapis-Lazuli and diamonds on the top. Ring size: 51 French sizes. US size : 5,75.
Rings: It was the most popular fashion jewellery between 1960 to 1970. There were several favour trends on the ring design from jewellery houses like Cartier, Van Cleef and Arpels. In the 1960s, the art fashion attention on jewellery rings was ballerina mounts, which mounted the central stone and undulated the diamonds around it. A great art example from Cartier could give the exact example (Available only in Galerie Montaigne).
Another signature ring that you don't want to miss is the boule ring, which was first designed by Van Cleef and Arpels. What is a boule ring? It's a unique design from mid-1930 but got so popular in the '70s. It usually uses gold beads to "twisted" around the rings and set a few rows of diamonds in the centre. The whole ring is like a globe shape to present the twill weave of yellow gold and diamond. Galerie Montaigne presented this iconic design from the '70s, signed Van Cleef and Arpels.
Lastly, jewellers kept investing in carved hardstone on their ring design. This lapis lazuli ring was discovered by Galerie Montaigne. The experts noted that this ring from the 1970s proved the revolution of cluster ring design by using coral, lapis lazuli, crocidolite in many different shapes for informal events and nightwear.
Nowadays, why people are still buying antique jewellery?
It is a great opportunity to get professional advice from a jewellery and collector expertise, Mr Guilhon from Monaco. There are some tips to help you understand why it is worthy to purchase antique jewellery nowadays. 
Fashion and jewellery trends. As those art custom pieces from the '60s and the '70s, they represented a significant fashion trend for clients. They are easy to wear, a strong stylish design could fit your daily outfit in any event.

Historical value. It is interesting to understanding the historical background of antique jewellery because every art piece remained the big revolution and development of society. 

Timeless design with impeccable reputations. There is a base value of raw materials on antique jewellery and the unique design from specific periods and artists. From individual jewellers to famous brands, they created that remarkable art jewellery for exclusive clients. 

Stable investment. Antique jewellery also considers a piece of art with potential market value. Due to the limited supply, the art and fashion market has a very high demand for valuable antique jewellery.
Where I can buy those valuable and real antique pieces of jewellery?
Firstly, if you don't have any training or certain knowledge about antique jewellery, there might be imitation, confusion about the market value, incorrect information etc. To help you define valuable antique pieces or provide professional advice on jewellery projects, we strongly suggest you meet expertise on antique jewellery.
In Galerie Montaigne, we provide you with exclusive professional service by helping you to find your dream jewellery. Not only providing a full set of certifications and gemologist advice but also complete your fashion look with stylish antique jewellery.
Welcome to visit our store: 2 avenues de la Madone 98000 Monaco. Discover the masterpiece of antique jewellery since Art-Deco, you will also find out more inspirational jewellery design pieces from famous independent jewellers. 
If you are an international client, we also provide online consulting in a private live showroom. To know more, please send us an email here: info@galerie-montaigne.mc.